Explore Suzy's work in Tradeshows
I have mostly enjoyed my exhibitor adventures at all of these convention centers.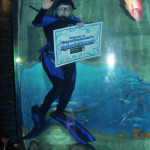 To attend and exhibit at these shows, I have crossed continents and seas (if you count the Mississippi), and endured extreme heat, cold, and hunger. I have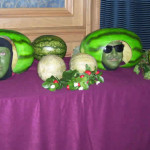 shipped, freighted or lugged a lifetime equivalent of 80 million tons of drayage, in and out of nearly every major convention center in the United States.
I have also enjoyed the fine dining and revelry of ballroom parties, parties in aquariums, parties in space needles, and parties on boats, on floats, on islands, movie sets and at attractions. While tradeshow parties are frequently necessary, I am just as happy to save the fun for the new kids.
Regardless of the venue, I can design the display, plan the booth, manage the paperwork, and get the show on the road.

Oh, the places I've been...
Anaheim Convention Center, Anaheim, CA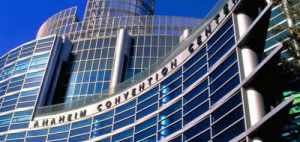 The Convention Center in Anaheim, CA is not my favorite. Although it's nice to be close to Knott's Berry Farm and Disneyland, this city is not that convenient for getting around and getting stuff and people where they need to go.
Prime F Osborn III CC, Jacksonville, FL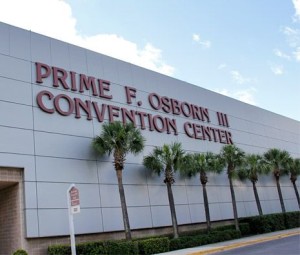 One of the smaller convention centers in the country, I liked the quaint size and close proximity to my home at that time.
New Orleans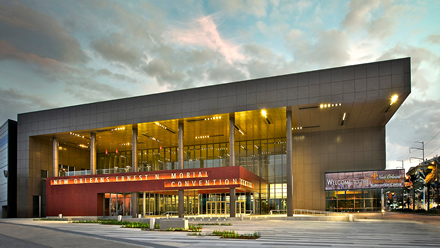 New Orleans is the best location for tradeshows. Period. I have exhibited at the Ernest N. Morial Convention Center in New Orleans many times. It's a big hall, pretty far from the fun on Bourbon Street in the French Quarter, but it's easy to get in and out, and parking always seems cheap and plentiful.
And oh, the stories I could tell.
Stampede Park, Calgary, Alberta, CA
I was thrilled to attend the Canadian Produce Marketing Association's annual show at Stampede Park, in Calgary, Alberta, Canada. I had no idea there were cowboys so far north! I also learned that it is probably more cost effective to rent a booth when exhibiting outside the country. I paid enough in customs fees on one power outlet to have purchased it several times over.
Caribe Royale Hotel & Conv Ctr, Orlando, FL

Yet another show place that feels like home. The Caribe Royale All-Suite Hotel and Convention Center in Orlando, Florida is (was) the every-other-year host to the Southeast Produce Council. The hall sits between two wings of the sweet suite hotel, and you must pass swimming pools and bars to get from rooms to the exhibition hall. I love shows here.
McCormick Center, Chicago, IL
Enjoyed a spring show at the McCormick Center in Chicago, Illinois, despite the blizzard. Here, we found ourselves with a blank corner exposed to traffic, so I had a poster printed at the Kinko's downstairs and covered it!
San Diego Convention Center, San Diego, CA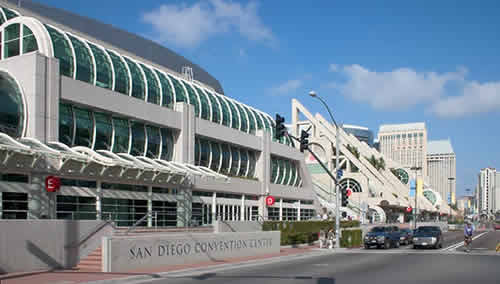 The San Diego Convention Center in San Diego, California is another place I have exhibited several times. Next to New Orleans, this is my favorite location for tradeshows.
Hickory-Metro Convention Center, Hickory, NC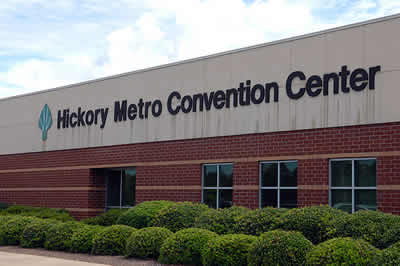 I lost count of how many times I have exhibited at the Hickory-Metro Convention Center in Hickory, North Carolina; it was three times a years for about eight years. I missed one due to snow between there and my home in Virginia. This Floriginian does not drive in snow.
Tampa Convention Center, Tampa, FL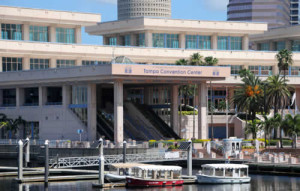 The Tampa Convention Center in Tampa, Florida is another facility where I have exhibited many times. This is one of the most beautiful facilities in the county. The dock here is convenient, once you find the tiny entrance, and there is almost always a shady spot under a roadway to park.
George R. Brown Convention Center, Houston, TX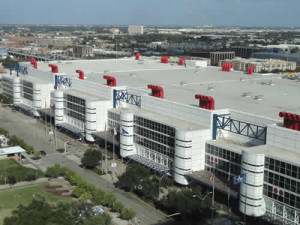 I have exhibited a few times at the George R. Brown Convention Center in Houston, Texas. Houston is another great host town for tradeshows. The center is gigantic and the loading docks are pretty awesome. For some reason, I always find flowers for my booth out on the docks after setup. 🙂
Metro Toronto Convention Center, Ontario, CA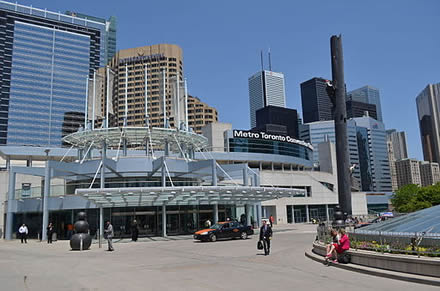 My husband and I took our RV and our dog when we exhibited at the Metro Toronto Convention Center in Toronto, Ontario, Canada. RV parking was not very convenient to our hotel, and when we expressed concern for security, we were told, "Oh, don't worry. We don't have crime here."